How it works
VLCI has developed web-apps (PrediApps), via which you can visualize, select, compatibilize and replace ingredients, based on HSP and HLD of commercial ingredients. The HSP and HLD can be repeatedly used to develop: solutions (HSP), dispersions (HSP) and emulsions (HLD, but HSP can complement). The HSP web-app is called PrediMatch and the HLD web-app PrediMulsion. Via these web-apps, it is possible to formulate products such as coatings, personal and home care, etc. In the central database which they are using, PredictID, we have a mix of our own HSP and HLD (non-confidential), from ingredient suppliers and other external sources. It is possible for ingredient suppliers to add their ingredient HSP and HLD for free and even link those ingredients to your own website/online tools. This is very much valued by product developers, among others, Henkel, who require such parameters!
Users can also create their own private database and share this with other users. From the databases (private and central), you can then filter ingredients and bring them to your formulation and to the select bench. Set your target area to find in the select ingredients the best matching ingredient(s) or create blends to make them compatible. Add this to your formulation, bring new ones to the select bench and repeat this process until you have all the best ingredients in your formulation. Save your recipe and prepare your samples in the lab to verify.
Our digitalization approach differentiates from others, because the predictive ingredient parameter HSP and HLD can be used repeatedly to formulate a wide variety of products.
Ask us if you would like a demo!
Brochure PrediMatch
PrediApps website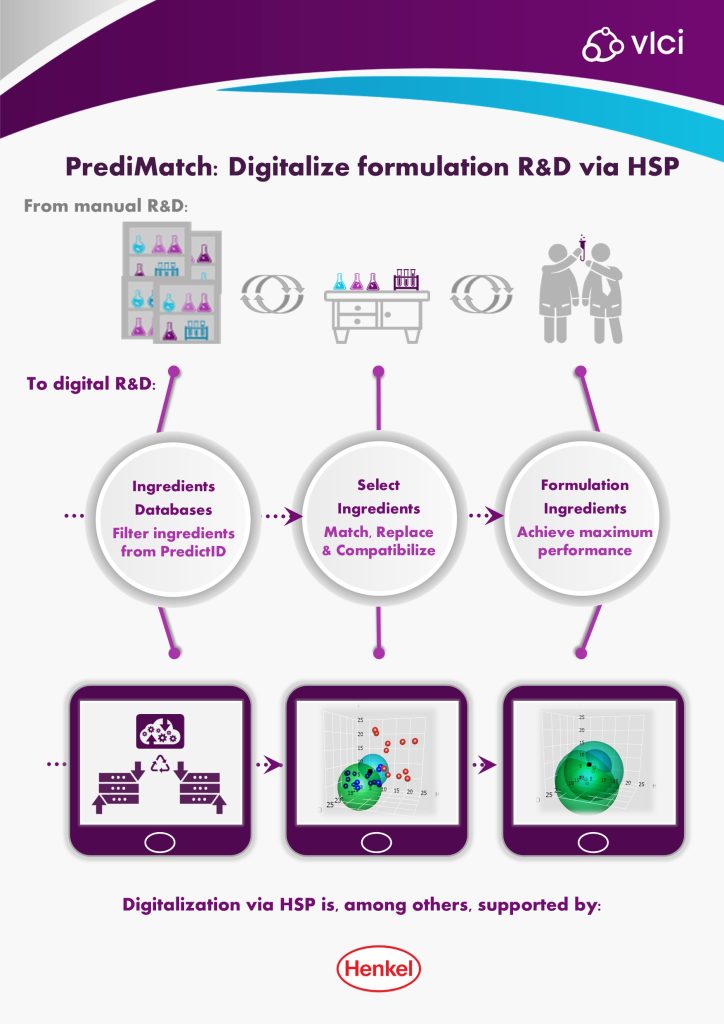 Benefits of PrediApps to Digitalize R&D
Both ingredient suppliers and formulators in the field of coatings, personal and home care, etc. can benefit from our web-app to digitalize their formulation R&D.