Career
VLCI is a growing company and can offer you a challenging job! Our team is energetic, flexible, international oriented and very creative and therefore your job will contain these ingredients. Furthermore, we have an open minded and respectful culture, serving small to multinational companies worldwide on project basis.
At the moment we don't have a specific vacancy. Anyway, we are interested in CV's from formulators, especially in the field of personal care.
Training
VLCI gives workshops on the following topics. Read our News section and check the topic and date of our coming workshop(s)!
Implement HLD-NAC for effective surfactant selection; this includes presentations on the theory, explanation of practical implementations in emulsions and hands-on formulating at VLCI's facility. First session will take place in our Amsterdam facility on September 29th 2017: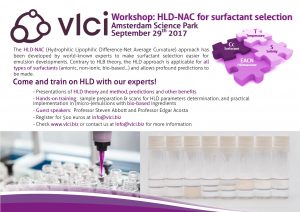 Implement Hansen Solubility Parameters; this includes presentations on the theory, explanations of practical implementation like selection of solvents, solvents blend and efficacy improvements. Hands-on work will be done at VLCI's facility. See below the example of our first HSP workshop from April 21st:
 High Throughput screening for formulation developments; after an overview presentation on HT screening, a visit to the lab of VLCI will be given to see the HT in action. We will manually prepare a formulation while the HT is preparing the same, to understand how manual processing can be translated to HT workflows.